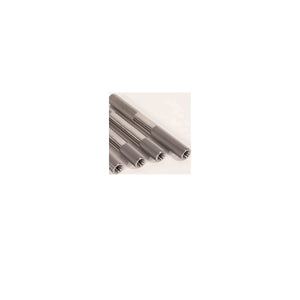 Profile 19mm Crank Axle - GDH Titanium
GDH TITANIUM CRANK AXLE-19MM
Like all Profile Titanium products, the GDH Ti Crank axle is designed for weight savings which can mean a reduction in strength. It's perfect for racing, park, flatland, and light street, but if you like to jump down 8 sets and off of rooftops, then you will be better served with their CrMo axle.
-The Ti GDH crank axle does not carry a warranty.
-Uses GDH Crank Tooll. Older crank tools will not work.
-Includes 6mm GDH  CrMo crank bolts and aluminum flush washers.
Sizes: 5.25″, 5.625″, 6.00″, 6.875″
A. Ti 5.25″ GDH Axle (For Track Bikes)
Weight: 149g / 5.21oz
B. Ti 5.625″ GDH Axle (For BMX Freestyle Bikes)
Weight: 158g / 5.53oz
C. Ti 6.00″ GDH Axle (For 68mm & 73mm external Euro BB's, Press fit BB's)
Weight: 165g / 5.77oz
D. Ti 6.875″ GDH Axle (For MTB 73 to 83mm Bottom Brackets)
Weight: 199g / 6.96oz