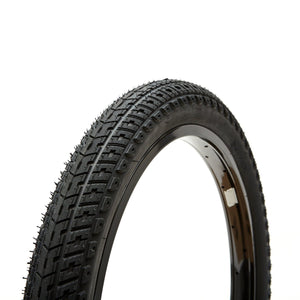 United InDirect Tire Black Wall
Teaming up with Bicycle Union, United is bringing you the newly styled Indirect tire.
Trail riders rejoice, for the United Indirect
tire they 
took their swerve
tire 
and increased the tread depth, added some extra cut outs and created a directional tread aggressive
tire 
that is right at home in the dirt. With the nature of this
tire they 
decided to make it their biggest offering yet, a full 2.35"
The classic indirect tire available in a 2.10" version. Perfect for a thinner rear trails tire or run front and rear on park & street.
Aggressive directional dirt profile combining grip and speed
Directional tread for greater balance and stability
Fine micro knurling across full tire for improved grip
Designed and developed with input from the United team

60 tpi construction / 110 psi rating

Inflated width
2.35 = 61mm / 2.4"
2.10 = 53mm / 2.10

Weight
2.35 = 730 g / 25.7 oz
2.10 = 626 g / 22.1 oz